ADO-SUS Series
Carbide Drill for Stainless Steel and Titanium Alloy
Work hardening, welding, elongation of cutting chips and poor thermal conductivity are common problems in the machining of stainless steels and titanium alloys. The ADO-SUS is a carbide drill series that employs a unique coolant hole shape and tool geometry to enable efficient drilling in these difficult-to-machine materials.
Features
---
1Sharp cutting edge reduces work hardening.
---
2New flute geometry enables the creation of compact cutting chips.
---
3Special margin shape reduces friction and heat generation.
---
4New coolant hole shape "MEGA COOLER" improves coolant flow, chip evacuation and cutting heat generation.
---
5WXL coating provides high adhesion strength, which minimizes the possibility of chipping.
---
Applications
Low Carbon Steel・Medium Carbon Steel・High Carbon Steel・Alloy Steel・Stainless Steel・Cast Iron・Ductile Cast Iron・Copper Alloy・Aluminum Alloy Casting・Titanium Alloy・Magnesium Alloy
Lineup
ADO-SUS-3D
ADO-SUS-5D
ADO-SUS-8D
Data
Machining Austenitic Stainless Steel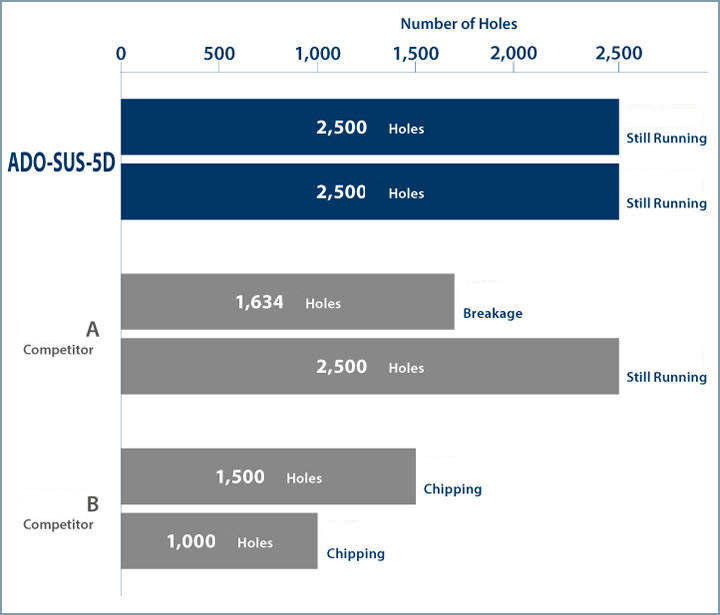 Catalog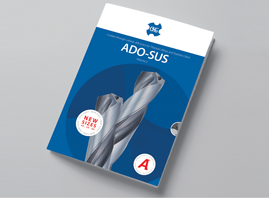 Download
Movie